About Us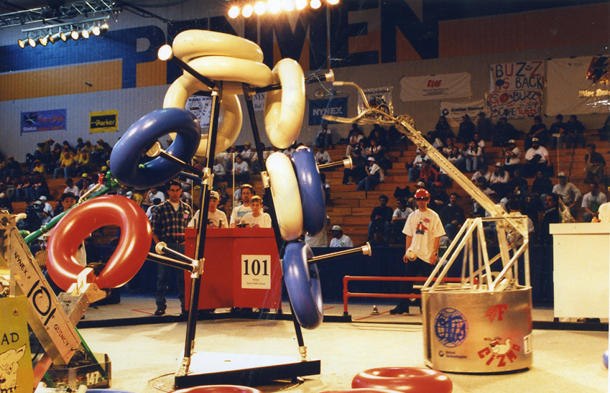 The 2nd Law Enforcers have been an active participant in FIRST (For Inspiration & Recognition of Science & Technology) since our rookie year (1997). Our team is a strong partnership of Farmington High School students, engineering professionals (from sponsors UTC Otis Elevator, ebm-papst Inc. UTC Sikorsky and Parker-Hannifin), teachers, parents, adult mentors, and alumni mentors. We are proud to say that our team is student driven and mentor nurtured. Our first robot, Gizmo, helped us to win Rookie All-Star Award at the DEKA New England Regional in New Hampshire in 1997. Since this successful first season, we continue to participate through attending the UTC sponsored Connecticut Regional and then either the FIRST Championship or a second regional competition. Since 2006, the team has been honored with the prestigious Engineering Inspiration Award 4 times at regionals in Connecticut, Boston and Toronto. In 2007, we were selected out of over 350 teams for the Engineering Inspiration Award at the FIRST Championship. For more details about our Team History, including all of our robots and competition history, see the Competition History page.
Our team is structured into two different groups, the engineering committee of representatives (ECOR) and the outreach committee of representatives (OCOR). ECOR is responsible for the design, building and maintenance of the robot and playing field. OCOR is responsible for non-engineering related aspects of the team, such as community outreach, fundraising, and animation. However, this does not mean that the students are locked into one single group. For example, members of the ECOR participate in community outreach by adjusting previous year's robots to be more child-friendly and helping children earn their "Robot Drivers License". For more information on team structure and each committee's responsibilities, see the team Bylaws.
Team 178 is very proud of our innovative Dream FIRST initiative, which brings the excitement of science and technology to children ages 3 - 10 as well as introducing them to FIRST at a very young age. Dream FIRST develops events that incorporate team robots, age-appropriate science experiments, and our original children's books featuring an anime version of our first robot, Gizmo. Our team runs at least one Dream FIRST event nearly every month. Dream FIRST events have been described as a "tech wonderland", a true "microcosm" of FIRST.
Our team would like to especially thank UTC Otis Elevator and ebm-papst Inc. for their generous financial support. Otis funds our robot build season and pays our competition fees each year. ebm-papst Inc. has donated several industrial class tools for our workshop. Mentors from Otis, ebm-papst Inc., Sikorsky, Parker, and Fabtron, along with parents, teachers, other adult and college mentors dedicate countless hours to the students on our team helping to make FIRST the best experience possible for them. In turn, our students dedicate themselves through significant community outreach as we work towards making the vision of FIRST a reality: "… a world where science and technology are celebrated and where young people dream of becoming science and technology heroes." (FIRST Founder, Dean Kamen).